Being frail since childhood, the Ipoh born young artist Rachel Lee was driven and encouraged by her inner voice to never let go of her dreams. Consequently, she boldly began her journey of painting and music, rendering emotional memories of growing up and monologues on pieces of canvas, transforming feelings into music notes, and presenting them in songs.
The exhibits diverged into two major parts. One demonstrates the skies of memories, colors of the ocean, grass, rain and wind. Another tells the self-exploration and monologue of young Rachel, as well as her courageous spirit in facing challenges. Apart from showcasing her paintings, her installation artworks will also be displayed on the spot. Her artworks relate to guitar, her creative life and her perseverance.
In conjunction with the exhibition, the multi-talented Rachel Lee will be joining her band — MESSENGER to present 2 performances – "A Live Paint & Music Art Show".
A Live Paint & Music Art Show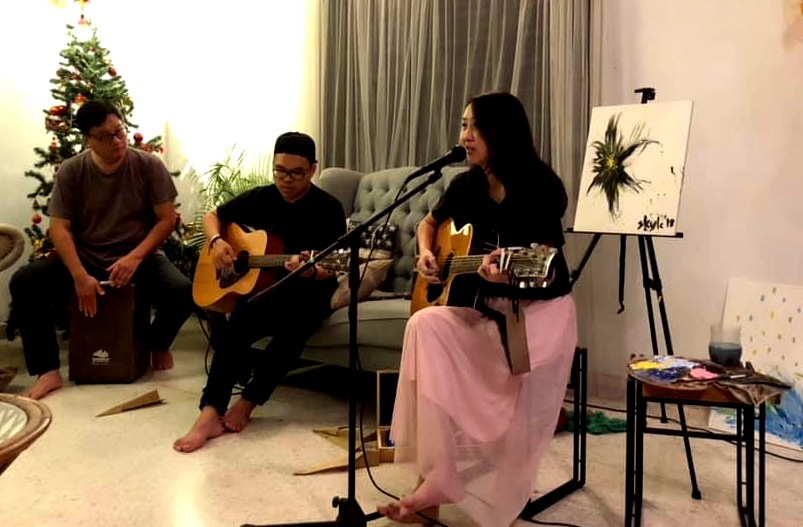 这是一个别具一格的表演,当Rachel 的乐队 MESSENGER 和 Meraki Cia 现场表演的同时,也让你通过彩绘或素描释放内心的感受和想法。让你放松的投入在互动的表演里。
How about watching Rachel Lee painting and singing at the same time live in the gallery?
This is a session where you will be able to express all your feelings & thoughts through sketches or painting improvisation while MESSENGER band & Meraki Cia are performing their own compose music and dance.
Date & Time 日期与时间:
3/8/2019 (SAT) – 4.30pm – 6.00pm
4/8/2019 (SUN) – 4.30pm – 6.00pm
Venue : OACC , HALL 1 (1st Floor)
Tickets票价* :
RM45 – Adults 成人
RM80 – Adult Package 成人配套(2 adult /2 个成人)
RM25 – Student 学生(6 – 18 years old)
*Iterative material included paper & paints
*现场将提供互动材料
Payment method:
Bank in to: Maybank: 5142-3582-4604
Account Name: Pertubuhan Kebudayaan dan Kesenian Timur Kuala Lumpur / Oriental Art And Cultural Association Kuala Lumpur
**请电邮汇款回执至Please email bank-in slip to oacc.my@gmail.com
book ticket